Custom Advanced Burner Products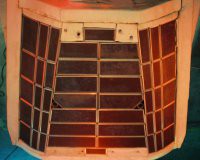 Pyromat Multi-panel Rooftop Burner System for Glass Windshield Forming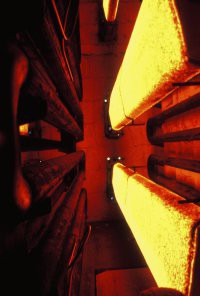 Duratherm Flameless Radiant Burners in a Fired Heater
ALZETA® Corporation specializes in the design and development of commercial and industrial surface combustion burners.  Our advanced burner products meet the stringent NOx emission standards set forth by many environmental regulations.  Whether you're looking for a new combustion system, or retrofit on your existing equipment, our burners are custom-designed to fit your application.  Select from the burner types below for an in-depth look into the capabilities, benefits, and optional features of each.
ALZETA's multiple combustion surfaces offer a wide range of capabilities to match the performance needs of your application or system.  Involving ALZETA early during development will allow the burner and system to be designed jointly, and ensure that the optimum material and surface heat flux is chosen.  We select from our four burner products including:
CSB™ – High flux, metal fiber material; ultra low NOx and CO emissions up to 1,500,000 Btu/hr-ft2
Duratherm™ – Ceramic fiber matrix material; low NOx, flameless radiant gas burner with uniform heat flux and quiet operation; 23,000 – 160,000 Btu/hr-ft2
FireStar™ – Ceramic and metallic composite material, ultra low NOx and low NOx
Pyromat™ – Sintered metallic material with controlled uniform heat; low NOx, 25,000 – 300,000 Btu/hr-ft2
Other products include nanoSTAR™, a 2.5 ppm burner for industrial gas turbines.  We also can provide a variety of special materials and configurations for unique applications.
Compliance with air quality regulations, with efficient burners and uniform heat distribution, is our specialty.  A retrofit can often be implemented on existing equipment to meet new requirements for NOx emissions.  Retrofit burners are competitively priced and can be developed specifically for your system.  We design the flame's shape and heat release to fit your present boiler or system to maintain existing thermal performance.
Please visit our product pages for a more detailed explanation of each burner type or visit Find the Right Burner for application assistance.  We design and develop our products to fit your needs.  To learn more regarding ALZETA, our new product developments, and our advanced burner products, contact us today!