Semiconductor Manufacturing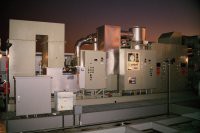 15,000 cfm EDGE SB oxidizer with Rotor Concentrator handles all VOC streams at a semiconductor facility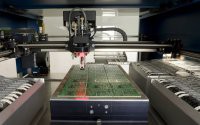 Much of the World's Semiconductor and Electronic Manufacturing Relies on ALZETA's Abatement Technologies
ALZETA® combustion technology provides numerous benefits for the semiconductor manufacturing industry.  Our flameless oxidation systems, catalytic oxidizers, surface burners, and other designs deliver superior performance, while meeting the industry's needs for compact size, low down time, and minimal maintenance. 
Semiconductor Manufacturing
ALZETA is well known for its unique oxidizer, abatement system, and surface burner technologies for the semiconductor manufacturing industry.
Our EDGE™ SB thermal oxidizer system technology based on our premixed, short flame length surface burners is ideal for processing HMDS and other silica particulate forming compounds.  Unlike systems using conventional burners, particles solidify quickly and remain as a dry dust—there is little agglomeration or glass-like coating on internal surfaces. 
Difficult PFC gases and chlorinated/fluorinated VOCs are processed safely and efficiently by the Duratherm™ inward-fired burner.  No other exhaust gas management system has achieved the very high destruction demonstrated by this flameless oxidation technology.
As many semiconductor facilities are located in NOx sensitive areas, ALZETA has assured the industry of compliance for NOx as well as VOC, PFC gases, or combustion emissions.  Our CSB™ furnace and boiler burners provide the lowest NOx of any combustion technology, for any gaseous fuel. 
ALZETA's technology delivers 24/7 dependability for the complete destruction of a wide range of global warming, toxic, and particulate-forming exhaust gases.
Contact ALZETA for more information on our semiconductor manufacturing-related technology and engineering services.  Our abatement systems, burners, and oxidizers deliver superior performance and efficiency for the unique requirements of the semiconductor industry.