ALZETA's distributed heat-flux burners increase firetube life and improve heater performance. They create near-constant heat transfer along the length of the firetube and eliminate localized hot zones. Features and benefits of these burners include:
Total heat absorbed by the process can be increased while operating at lower peak tube wall temperatures
Premixed, radiation-stabilized surface combustion with no flame impingement or visible flame
Available with capacities from 1 million to 10 million BTU/hour
4:1 turndown minimum
Low NOx emissions—less than 15 ppm corrected to 3% O2
Built to CSA B149.3 and B149.1 standards
Includes Combustion air blower, flame arrestor, gas and air flow trains, and controls
Eliminate Firetube Fouling and Failure
Our first distributed heat-flux burners were installed in asphalt tank heaters in the mid-1980s. More recently, as polymer flooding and enhanced heavy oil recovery (EOR) operations have become more commonplace, operators have been experiencing more frequent firetube fouling and failures in their process heaters and heater treaters.
The firetube failure points are typically several feet from the inlet where burner flames impinge on the metal surface. A typical scenario:
High temperatures from flame impingement cause a layer of emulsion sediment to form on the outside tube surface wall
This layer acts as an insulator, limiting heat transfer and further increasing the temperature of the tube wall; and causing the tube area covered by the layer to expand
Tube yield strength decreases, and the tube collapses or ruptures
ALZETA's gas-fired distributed heat-flux burners provide uniform temperature profiles along the entire length of your firetubes. Tests comparing the distributed flux burner with a conventional burners show significant differences: at similar or less heat input, conventional burners create localized high temperature heat zones, while our distributed heat-flux burners avoid hotspots and provide more heat further down the length of the firetube. The net result is better, more consistent heat transfer at lower peak tube wall temperatures.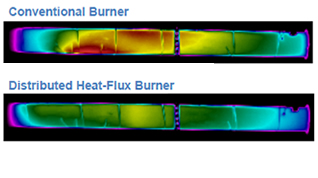 Sized to Your Requirements
Burner systems from ALZETA are sized to match heater requirements: total heat input, process flow, process temperature, firetube diameter, firetube length, duty cycle, ambient temperature are all considered. With this information, we can determine the proper burner diameter and length, ideal surface firing rate, and optimum air-fuel ratio. The typical scope-of-supply includes:
Burner elements, built in sections for easy installation
Combustion air blower with VFD
Inlet filter
Combustion air flow control damper
Gas train built to CSA B149.3 (or equivalent) standards, with fuel control valve electronically linked to the air damper for accurate air-fuel ratio control
Process Temperature and combustion controls
Flame arrestor box (as needed)
Startup support—systems can typically be brought online in 24 hours
Contact ALZETA today to speak with one of our engineering experts about a distributed heat-flux burner for your application.