Advanced Combustion Systems Technology & Engineering Capabilities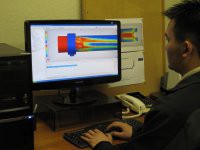 Computational Fluid Dynamics Capability
ALZETA® Corporation has always been an innovator in the combustion industry, in large part due to the extensive capabilities of our experienced staff, and our advanced research and development facility.  This facility, which boasts multiple combustion systems, allows the research and development team to rigorously develop and test new combustion technology.  ALZETA's engineers, along with the advanced facility, can perform physical and computer modeling, materials life cycle testing, emissions optimization, system development and testing, and more.  ALZETA's engineers have amassed many years of diverse combustion engineering experience, and plays a pivotal role in the development of the innovative combustion technology that ALZETA offers to clients.
Since inception in 1982, ALZETA has formed many valuable technical and commercial partnerships, which rely on ALZETA's expertise.  Some of these partners include the California Energy Commission, U.S Department of Energy, Pacific Gas & Electric Company, the Gas Research Institute, Southern California Gas Company, Ford Motor Company, Andritz AG, Laars, and others.  We have collaborated closely with these entities to develop numerous cutting edge combustion technology available today: compact condensing pool heaters and copper fin tube boilers; rooftop furnaces for glass bending; halogenated VOC abatement systems; uniform flux non-coking asphalt and crude heaters, and more.
We specialize in solutions to challenging heating processes using gas premix surface combustion.  Please
contact ALZETA
with your challenging combustion applications.