Breakthrough Industrial Boiler Burners & More!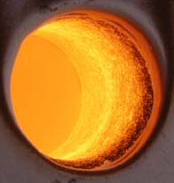 ALZETA's Inward-fired burner for maximum VOC Destruction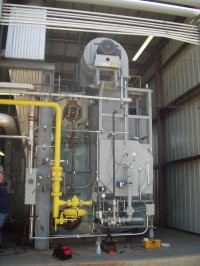 Ultra Low NOx Industrial Boiler Burner
ALZETA® Corporation leads in the application of gas premix surface burners to diverse combustion applications.  We were the first burner supplier to apply gas premix surface burners to small commercial boilers, and large industrial package boilers.  We have been leaders in achieving single digit NOx with our technology and products, and have technology ready now for current and most future air quality regulations.  The ALZETA ultra low NOx burner designs have all originated from fundamental research, development, and testing at our headquarters in Santa Clara, California.
Low NOx ALZETA burners can often replace existing burners, with only minor modifications to the existing system, easily fitting the existing furnace without derate; a very attractive option to boiler replacement to meet new  NOx regulations.  ALZETA burners provide a very uniform heat flux to the furnace tubes.  Ultra low NOx burners from ALZETA can also burn alternative, opportunity fuels such as biogas, digester gas, and landfill gas all with the same burner element.
ALZETA has developed several products that are used in advanced VOC abatement systems.  The patented inward fired combustion tube is a breakthrough technology.  This unique design provides up to 99.9999% destruction of difficult to destroy, halogenated and other VOC's.
Fundamental combustion expertise, and knowledge of the systems utilizing premix surface combustion, allows ALZETA to provide unique and value-added designs for many thermal processes.  For example, ALZETA burners provide very uniform heat flux for asphalt heaters, oil field heater treaters, and direct fired drum heaters for the paper drying.  Variable flux rooftop furnaces, patented radiant cell cabin heaters, low NOx atmospheric boilers, and VOC thermal oxidizers utilize ALZETA technology.  We are always seeking applications that utilize the advantages of pre-mixed surface stabilized combustion to improve performance.