Industrial Burner & Combustion System Products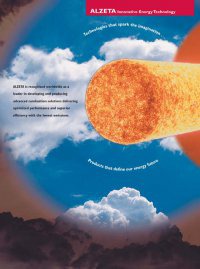 ALZETA® Corporation is recognized throughout the world for energy and emissions based combustion solutions.  Providing low and ultra low NOx burners for commercial and industrial markets, we have built our reputation designing and developing the best surface combustion systems for unique applications in boilers, water heaters, dryers, process heaters, VOC abatement, and more.  Our ongoing research and development in surface combustion systems helps us continually advance clean combustion technology.
ALZETA stands apart from the competition by providing multiple surface materials, including ceramic and metal fiber composites, for surface combustion.  Another ALZETA competitive edge is our extensive engineering capability.  Our experts work with the client to select a material and flame shape that will provide a system designed specifically for your application.
To learn more regarding ALZETA and our technologies, download our free product literature. This informative document shows the core areas of expertise that have made ALZETA successful and that enable us to create products that deliver optimal performance and industry-lowest emissions.
ALZETA engineers have years of experience in advanced surface combustion applications.  Our research and design capabilities make us flexible and accessible when it comes to engineering applications.  The final result is always in compliance with your region's air quality control regulations.  For help in choosing the element that works best in your system, check out our online assistance, Find the Right Burner.
To learn more regarding ALZETA Corporation,
contact us
today.  You can also read through our energy solutions literature for the latest in our innovative surface combustion systems.  This provides you with more information on our latest advancements in the combustion field.  ALZETA is a worldwide leader in innovative surface combustion technology, providing eco-friendly solutions for clients worldwide.