Commercial & Industrial Process Heaters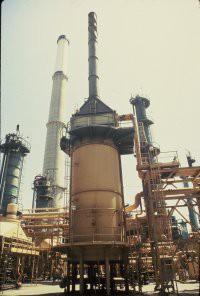 Vertical-Cylindrical Heater with Single Forced-draft CSB Low NOx burner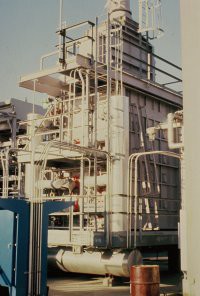 ALZETA's patented "Radiant-Cell Cabin Heater" with multiple Duratherm radiant burners at a Waste Oil Recycling Facility.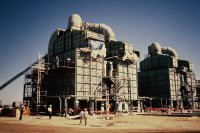 Thermal Oil Heaters with multiple Duratherm at a California Solar Power Generating Facility
ALZETA® premix surface stabilized gas burners are an excellent choice for application on fired heaters of many types:  forced draft vertical cylindrical configuration, cabin style, or box style. 
All ALZETA burner types produce a very short flame, and the flame conforms to the burner surface, so the energy flux can be placed in optimum locations relative to the heat transfer tubes, without any harmful flame impingement.  Flame shape can be cylindrical, semi-cylindrical, conical, flat, or any combination of these.  The surface heat flux can be widely varied, using the rugged metallic CSB™  surface, the metallic-ceramic composite FireStar™  surface, or the low flux ceramic Duratherm™  surface. 
The highly advantageous features of short flame, controllable heat flux, and defined geometry make ALZETA surface combustion gas burners ideal for heating fragile and sensitive fluids, susceptible to undesirable property changes due to uncontrolled localized heat flux.  And with all the ALZETA surface combustion options (CSB, FireStar, and Duratherm), low NOx and ultra-low NOx is achievable.