VOC Abatement & Remediation Systems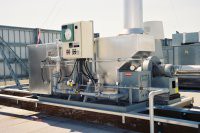 2000 cfm EDGE GC recuperated catalytic oxidizer, outdoor rooftop installation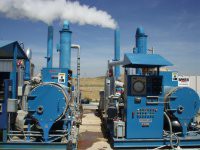 Dual 250 cfm EDGE QR oxidizer systems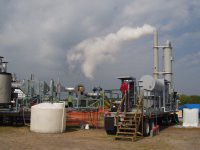 1500 cfm EDGE QR system with quench and scrubber
Since 1991, ALZETA® has delivered industry-leading VOC abatement and remediation technology.  Our flameless oxidation components, incinerator burners, and waste gas burners are used in VOC abatement systems and at remediation sites around the world.
VOC ABATEMENT
EDGE QR™ VOC abatement systems based on our inward-fired Duratherm™ incinerator burner deliver maximum destruction of difficult fluorinated and chlorinated compounds, BTEX, as well as many others.  In tests coordinated with EPA, destruction efficiencies of greater than 99.999% were demonstrated on a number of halogenated compounds.  Systems have been installed for specialty chemical manufacturing, chemical loading/unloading, fluoropolymer and semiconductor manufacturing, and pharmaceutical manufacturing. 
ALZETA's EDGE GC™ (graded-cell) catalytic oxidizer technology can be used in VOC abatement systems to create extremely efficient oxidizers with low operating cost and small installation footprints.  Destruction efficiencies greater than 99% have been demonstrated.  Applications include semiconductor and pharmaceutical manufacturing, and painting and coating operations.
Using ALZETA's premix surface-stabilized combustion burner to provide a short (2-3") flame length, the EDGE SB thermal oxidizer assures uniformly high-temperature environments and steady residence times for maximum VOC destruction.  A key advantage lies in the semiconductor industry for processing VOCs that oxidize to silicate particulate.  Particles remain in a dry dust state, rather than agglomerating and creating high maintenance glass-like coatings inside oxidation system components. 
ALZETA's oxidizer technologies are often combined with rotor concentrators to minimize VOC abatement system operating costs when processing low concentration streams. 
SOIL REMEDIATION
ALZETA's EDGE QR inward-fired flameless oxidation burner is recognized as the leading waste gas burner technology for maximum destruction of BTEX, chlorinated, and fluorinated compounds.  Concentrations as high as 20,000 ppm can be safely processed, making it ideal for thermally enhanced  or other accelerated abatement processes.
Our technology is extremely effective for difficult soil remediation project sites.  ALZETA licenses the incinerator burner technology to a number of engineering and remediation companies, often working EPA Superfund and other difficult reclamation sites.
For more information on how to put our superior technology to work in your VOC abatement system and remediation system applications, contact ALZETA today.  Our experience with and expertise in VOC abatement and remediation are second to none.