12/29/31 - 12/15/02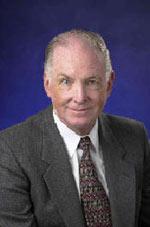 After a long and courageous fight with cancer, Dr. Robert M. Kendall, the founder of ALZETA® and our dear friend, passed away December 15, 2002. Bob is survived by his wife of 45 years, Angela; his daughters, Kathleen FitzGerald and her husband Bruce, and Patricia Kendall; and sons, Tom and his wife Denise, and John; his brother Jack; and five grandchildren, Dan & Laura Kendall, and Ryan, Kailyn, & Colleen FitzGerald.
A wonderful service celebrating Bob's life was held December 21st St. Luke Lutheran Church, in Sunnyvale. Robert M. Kendall was a fourth-generation Californian, a strong and devoted Christian, a loving husband and father, founder of ALZETA Corporation and co-founder of Acurex Corporation. He received his B.S. and M.S. in Chemical Engineering from Stanford and PhD from M.I.T. He was a dedicated scientist and businessman who loved to solve problems. His work and expertise in combustion and thermodynamics often took him to Europe and Asia where he lectured as well as initiated and maintained customers for ALZETA. He helped grow his first company, Acurex, to a 1000-person firm before purchasing its combustion department and founding ALZETA in 1982. He had a love for young people and education, taught at UC Berkeley Extension and was a consulting professor in Chemical Engineering at Stanford University.
The devoted father of four, his family embraced faith and fellowship, the challenges of academia and innovation, the happiness of competitive swimming, hiking and backpacking, and the joy of world travel and local travels to the High Sierras and the family home on Monterey Bay. His five grandchildren were "perfect" in his eyes.
His extended family includes St. Luke Lutheran Church, where he was a teacher, youth leader, Board member and Elder. This offered a place for Bob to love and serve as "unto the Lord" for over 40 years. Bob first experienced this special blessing as a youth at Pasadena Presbyterian Church where five of his friends went on to become Pastors.
He had a strong will to accomplish what he believed important in this life and an assuredness and peace about the life to come. He researched and endured many experimental medical protocols to battle cancer. He met the challenge of this disease during the past 12 years with intelligence, perseverance, and remarkable tranquility.